August 22nd, 2011 (09:02 am)
Yesterday at the rental shop, I had my first Bridezilla moment. I'm not proud of my behavior, but listen: I'M EXHAUSTED!

Normally, I've been taking things in stride and things have been smooth. When something hasn't gone "right", I've been quick to adapt. If hours of watching Bridezillas has taught me anything (and believe it or not, it has), it's to be open to adaptation. Planning your wedding and executing it with grace and style should be something we strive for, not being a total pain in the ass, stubborn, fixated little petulant child.

And yet...

There I was combing the rental store for the closest equivalent to "Coral" as possible for my linen napkins. MY NAPKINS. When I was presented with an alternative option like "Watermelon" or "Peach", I felt a tiny stab of unfairness behind my heart and a boil of blood in my face. "Those are both too pink. I need something with more orange in it." Like anyone cares. Like I even care that much. When I looked over at Patrick, he was giving me a look of "Really??" And yet, I paced around the store, fiending for coffee and a cigarette (and I'm not a smoker), looking for the perfect napkin and table linen color to "fit my vision". "Tina, I just want to get out of here and I want Coral napkins." I think I might have looked a little something like this at one point: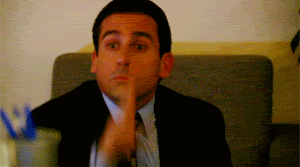 Sheesh. Get a grip. Luckily, my fit of displeasure was short and mild (I'll thank my practice of meditation for that) and when I apologized to Tina at the rental store, she said, "That's what you call a bridezilla fit...? Ha!" And then she gave me candy. And I loved her for it.

Seriously, planning a large wedding is more than a part time job. The minute details are staggering. The amount of brain power is max capacity. And swatting away the stress is exhausting. When my mom or my BFF Yasi call to ask me details about my Bachelorette party and my Bridal Shower, I just say, in my most kindest of tones, "I don't give a mad fuck." Ladies, just tell me where and when to go and I'll be there.

Ok, back to the grind. Thank god for coffee!